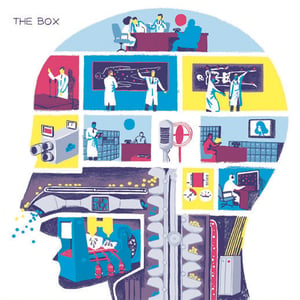 €

5.00 - On Sale
New on PLASTIC SPOONS RECORDS !!!
Weird Wild & Wicked 7" BY "THE BOX" , Vincent Bergier's (ex CRASH NORMAL) new band .
45RPM
side A : The Door
side B : The Brain
500 copies on transparent vinyl
Best record of year 2012 by Lelo Jimmy Batista (New Noise Magazine)
Lelo Jimmy Batista (New Noise Magazine) l'a élu meilleur skeud de l'année 2012 :
"Il y a eu énormément de bons disques cette année (Umberto, Scorpion Violente, Black Bug, J.C. Satàn, 2Kilos &More, Trésors, Midnite Snaxxx, School Jerks) mais celui que j'ai posé tout en haut de la pile est un single, celui de The Box, un duo formé par Vincent Bergier, ex-guitariste de Crash Normal. C'est précis, sec, glacial, plein de grondements menaçants et de brutalité contenue, ça tombe pile entre Chrome et les Screamers et c'est tout à fait le genre de truc capable de te redonner foi en l'Homme et sa destinée quand, dehors, tout semble déjà plus cuit que le blanc d'un oeuf au plat."
listen to it on our soundcloud :
http://soundcloud.com/plastic-spoons-records
http://www.discogs.com/label/Plastic+Spoons+Records